Jody Scheckter's beer label 'breaks rules'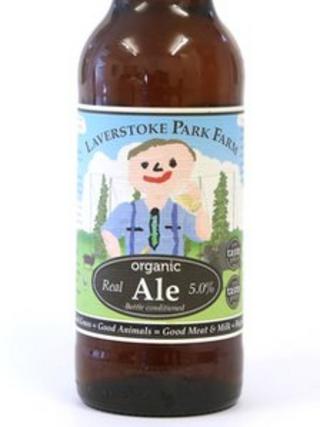 Labelling on bottles of organic beer made by former F1 World Champion Jody Scheckter breaks rules on appealing to children, a watchdog has said.
Bottles of lager and ale made at Laverstoke Park Farm in Hampshire feature farmer "Mr Laverstoke".
One complaint over the "childish" design has led to the Portman Group finding it may appeal to children.
Mr Scheckter said it was "nonsensical" and he would fight plans to stop sales of the product from 7 January.
The Portman Group promotes responsibility within the alcohol sector and its findings, although not legally binding, carry weight within the industry.
Complaints are referred to the group's Independent Complaints Panel which, in this case, ruled the labelling "breached alcohol responsibility rules for using a drawing with particular appeal to young children to market alcoholic drinks".
'Without foundation'
Mr Scheckter, 62, who was crowned Formula 1 World Champion in 1979, said more than 170,000 bottles of his ale and lager have been sold without complaint since 2007 with many retailers now stocking the product.
He said: "If I believed for one second that our labelling was going to appeal to and encourage children to drink our ale and lager I would stop immediately.
"The Portman Group's belief... is nonsensical and without foundation.
"Our ale and lager has been purchased by responsible and knowledgeable buyers from the major multiples... and those retailers would not buy a beer that they considered to be a risk to their company's reputation."
He said the financial implications for his small company, based near Basingstoke, to change the product before the January deadline and with Christmas looming was huge.
"We cannot afford to have a nationwide advertising campaign to re-launch the product... it may mean that it is no longer viable for us to produce our award-winning beers."
Apple juice
He called on retailers to ignore the ruling and said he was seeking legal advice, adding: "I have no intention of bowing down to the Portman Group."
The farm uses the logo, which was designed by Mr Scheckter's son, on its range of products, including apple juice.
Henry Ashworth, chief executive of the Portman Group, said: "Whilst a child's drawing may be acceptable for marketing organic apple juice it is entirely inappropriate for alcoholic drinks' labels.
"There are no exceptions to the rule which says that alcohol packaging must not appeal to children, regardless of where a product is being sold.
"We understand that producers don't deliberately set out to break the rules but they must be extra vigilant when it comes to marketing alcohol."
Mr Scheckter drove in Formula 1 from 1972 to 1980, racing in more than 100 Grand Prix, winning nine.
After retiring he set up a business in the US using simulators to help police and military forces in weapons training before buying the farm.