Skype founder Niklas Zennstrom's Hampshire house 'was wreck'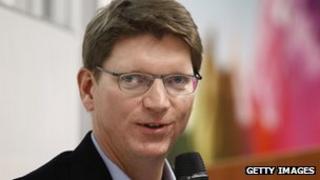 The co-founder of Skype was sold a luxury home in Hampshire that was left in such a "shambolic" state it had to be demolished, a court heard.
Niklas Zennstrom has launched legal proceedings to sue its former owners and builders over claims the £1.1m house was uninhabitable.
Mr Zennstrom, ex-owner of the internet phone service, bought the Hamble property in 2009 but then abandoned it.
Previous owners Deborah Wilks and Helen Moseley deny any wrongdoing.
In a preliminary hearing at the Technology and Construction court at the Royal Courts of Justice in London, Mr Zennstrom and his wife Catherine said the house in the exclusive estate of Crowsport was so poorly constructed it was simply "not fit for habitation".
'More and more faults'
The couple claim Ms Wilks and Ms Moseley built the house with the sole intention of making a profit.
Despite carrying out detailed surveys before buying it, Mr Zennstrom claims major defects were only discovered later.
The Swedish entrepreneur, who made hundreds of millions of pounds when he sold his stake in Skype to Microsoft as part of a £5bn deal, compared the defective structure to peeling an onion.
He said: "As you opened more and more panels, you found more and more faults."
The two-day hearing will seek to determine if Ms Wilks and Ms Moseley, who built the property from scratch, are liable under the Defective Premises Act 1972.
Mr Zennstrom, 46, is looking to sue all those responsible for building it - including its architect, builder and structural engineer - for around £1m.
Ms Moseley and Ms Wilks, from Netley in Hampshire, called the property their dream home.
However, they were forced to sell it for financial reasons after Ms Wilks changed careers.
The case continues.