Southampton's Joiners music venue under threat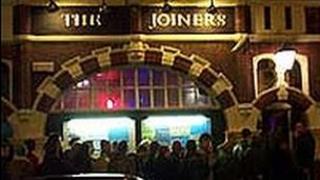 Southampton's much-loved music venue The Joiners, which opened in the 1960s, is struggling to stay in business.
The St Mary Street venue is facing an uncertain future after a dramatic drop in ticket sales.
Owner Patrick Muldowney said: "We need to reach out and express the severity of our state to our local community and loyal regulars."
The pub staged early gigs from Radiohead, Oasis and Coldplay.
Ticket sales have dwindled over the past two years with the 150-capcaity venue struggling to draw in the crowds.
Mr Muldowney said: "The bottom line is the place will die without some help."
'The lifeblood'
To support the business, bands and musicians have come forward to stage a series of benefit shows.
Frank Turner, a folk/punk singer-songwriter from Meonstoke, Winchester, will perform in aid of the venue next month.
In a blog post he said: "The vast majority of my time as a musician has been spent on the stages of small bars, clubs and pubs. They are the lifeblood of any scene.
"This is a venue that is really special to me. Let's all gang together and make sure the Joiners survives and continues to provide a platform for the music we all love."
Tickets for the gig sold out in 90 seconds, the fastest selling show the Joiners has ever had.