Alistair Neill resigns from Southampton City Council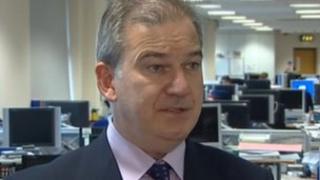 A council chief who once received a bravery medal for confronting a gunman is stepping down from his job.
Alistair Neill, the chief executive of Southampton City Council, is resigning to take up the same role at Herefordshire Council.
He was touring the HMS Astute in April 2011 when Able Seaman Ryan Donovan shot Lt Cdr Ian Molyneux.
He, and former leader of the council Royston Smith, pinned Donovan to the floor until police arrived.
Both men were awarded the George Medal for bravery in March.
He said: "It is inevitable... that the events on board HMS Astute a year and a half ago are a prominent memory."
'Extraordinary journey'
Mr Neill has held his post for more than two years and will leave the council in March 2013.
He added: "I will take with me some fantastic memories of both a great city and a great team of people in the council.
"The period since 2010 represents the most challenging period in Southampton City Council's history, requiring us to reduce our costs by over £85m.
"To date we have worked through around 75% of the financial challenge and set strategies and innovative approaches in place that I believe will enable the council to complete this extraordinary journey."
The council's draft budget in November revealed it will cut nearly 300 jobs as it seeks to plug a budget gap of more than £20m.
Mr Neill received £188,919 from the council, including fees, allowances and pension contributions, during the 2011/12 period as chief executive.
A Herefordshire Council spokesman said his appointment would be recommended to the employment panel on 23 November.
During the employment panel of 13 September its proposed remuneration for the post was between £140,000 and £145,000.