St John Ambulance honours teen for saving friend's life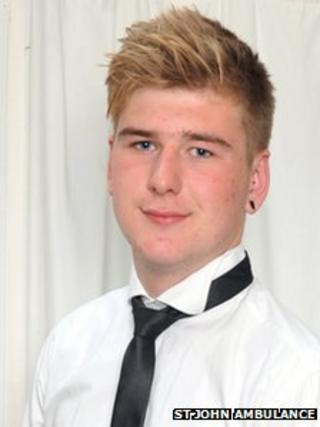 A Hampshire teenager has won a national award after saving the life of his best friend.
Lee Craven, 17, of Hook, pulled Max Davies to safety and gave him first aid after he fell through ice on a frozen canal in Woking, Surrey, in February.
Lee was chosen in a public vote from five shortlisted nominees to win the St John Ambulance Guy Evans Award.
He received his accolade at a black-tie awards dinner at London's Lancaster Hotel on Monday evening.
The Guy Evans Award, which is given in recognition of inspirational first aid achievement, forms part of the annual St John Ambulance First Aid Awards.
Ice plunge
Lee, who learned first aid with the Scouts, was at a party when his friend Max went into the back garden, not realising it backed onto the Basingstoke Canal.
Believing he was stepping onto a footpath, Max plunged through the ice and the current moved him away from the hole in the ice.
Lee wrapped his legs around a tree stump and stretched across the ice, submerging his upper body in the water before using his strength to pull his friend to safety.
He also made sure his body temperature was restored gradually, preventing him from going into shock, by taking him back to the house and putting him in dry clothes.
'Extreme courage'
Lee was nominated by his mother Jennie who, before the awards, said: "Even though he put his own life at serious risk, his only thoughts were for rescuing his friend, on one of the coldest nights of the year.
"His quick thinking and extreme courage in such a dangerous and difficult emergency was amazing.
"Lee calmly, took control, life-saving his friend, then treating him for hypothermia. I feel so very grateful that they are both alive and I think Lee is a true hero."
Richard Evens, who chaired the judges for the awards, said: "It is fantastic to see such amazing stories of individuals who have selflessly helped others.
"I'm pleased that our awards celebrate their achievements and hope that they inspire other people to be the difference."
The award was set up in memory of Oxfordshire teenager Guy Evans, who died in 2008 aged 17. His heart failed as he and his friends were riding their motorbikes.
His mother Beth Chesney-Evans believes if someone with him had known first aid, he may have had a chance of survival.