Woman's garden flooded by raw sewage four times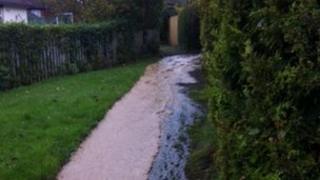 A woman from Hampshire has said her garden has been flooded by raw sewage four times in the last four months.
Sylvia Robinson, from Kingsworthy near Winchester, believes there is a fault with the sewer system on her street.
She said Southern Water had not done anything about it and was refusing to take responsibility.
The water company said householders were causing the problem by putting non-biodegradable waste down the toilet.
Four neighbouring properties have also been flooded by the foul effluent, said Mrs Robinson.
'Deeply unpleasant'
It comes rushing down the path and goes all over the garden," she said. "I think it's disgusting to be honest and Southern Water say it's what people flush down the loo..."
A spokesman for Southern Water said: "We know this problem is deeply unpleasant and we sympathise with those affected.
"The flooding incidents have been caused by blockages of things that should not be in the sewer, such as wipes, sanitary products and cooking fat."
The company said it was now regularly inspecting and jetting the sewer system to prevent more floods.
"In the long-term, we need to work with our customers in the area to prevent the blockages happening in the first place and we're in touch with the relevant agencies to work out the most effective way of doing this," the spokesman said.
"We urge customers not to flush anything non-biodegradable, such as nappies and wipes, down the toilet, and not to pour cooking fat down the sink.
"Doing so can have devastating consequences further down the line, as the wastewater backs up and overflows out of manholes into streets, gardens and sometimes homes."