Frank Turner gig to help The Joiners pay £30,000 bill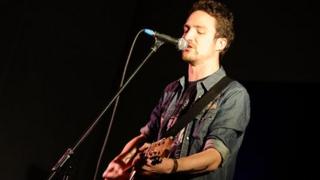 Musician Frank Turner will play a free gig to help Southampton's renowned music venue The Joiners raise £30,000 to fend off the bailiffs.
The St Mary Street venue is facing an uncertain future after a dramatic drop in ticket sales.
The pub opened in the 1960s and has staged early gigs from Radiohead, Primal Scream, Oasis and Coldplay.
Manager Patrick Muldowney said it made hardly any profit and was kept open just "for the love of the venue."
The Frank Turner benefit gig on 28 December sold out in 90 seconds and has raised £8,000 towards £30,000 owed in rent arrears.
The folk/punk musician said on his blog: "Despite having played at larger places in recent years, the vast majority of my time as a musician has been spent on the stages of small bars, clubs and pubs.
"They are the lifeblood of any scene and are vitally important to anyone who gives a damn about music, whether underground or mainstream."
He said The Joiners was "really special" to him as he had played there many times and watched his first gig there in 1995.
'X Factor effect'
Mr Muldowney said he hoped the public would support the venue by buying tickets and going to shows.
He said bailiffs had come to the pub, but it had managed to negotiate a deal to pay the money back in instalments.
"If we can get a bit of support and get more gigs like this then we might be able to keep going for another 40 years," he said.
Mr Muldowney said the live music scene needed some "big bands" such as the Britpop battle of Blur and Oasis to invigorate it and inspire people.
He also said he believed the X Factor had a negative effect on up-and-coming musicians.
"Aspiring musicians go on there and they're told they're rubbish and get binned," he said.
"But small venues like us give them a chance and we see bands really develop - four of five gigs down the line and their music is so much better."
Greg Gilbert, from the band Delays, said: "It's played host to some of the greatest bands of all time, which, alone, qualifies it as a historical site.
"But it's what The Joiners represents for the next generation of artists that is most valuable.
"For us, it gave us our first gig and has continued to support us. Without it, we would've struggled."
Southampton musician Stuart Powell watched his first ever gig - Primal Scream - at The Joiners. He said: "It's the place to play in Southampton - it has the best sound and it's legendary.
"Everybody who's anybody has played at The Joiners. The Libertines, Oasis, Primal Scream - it will be shocking if it closes."