Stolen bicycles found in polytunnel in New Forest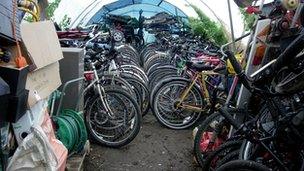 More than 100 bicycles have been discovered in a polytunnel in the New Forest by police investigating a spate of bike thefts.
Hampshire police said at least 50 cycles had been reported stolen in the Lymington, Brockenhurst and New Milton areas since September.
The hoard was discovered in a polythene greenhouse near Pennington.
Five people have been arrested in connection with the investigation. Three men remain on bail.
Officers said 28 top-of-the-range bicycles were stolen in the Lymington area in October, compared with one during the same period in 2011 and three in 2010.
Police said the number of thefts was comparable to Portsmouth, which has a population 14 times larger.
Sgt Harry Wilson, of Hampshire Constabulary, said he believed a group of people working together were targeting valuable bikes.
Three men from the New Forest area, aged 20, 23 and 52, have been arrested and bailed, police said.
A 14-year-old has been cautioned in connection with a single bike theft and an 18-year-old man has been reported for summons in connection with a single bike theft.
PC Ian Cross said: "It is notable that almost every single cycle stolen in this series of thefts was secured using a chain or cable lock.
"These will stop the opportunist thief but a good quality D-Lock secured around the frame is by far the best deterrent to a determined criminal."
Officers are now contacting victims of cycle theft and are urging anyone else who has lost a bicycle to come forward.
Related Internet Links
The BBC is not responsible for the content of external sites.