Southampton hospital checks fall victims for dementia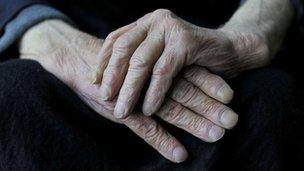 Elderly patients who visit a Southampton A&E department with bone fractures are to be checked for early signs of dementia.
Orthopaedic and elderly care specialists at Southampton General will assess patients over 70 with broken wrists, arms and shoulders.
It is hoped the earlier intervention will prevent more serious and life-threatening fractures later.
Dr Mark Baxter said it could also "help treat and manage any brain impairment".
Researchers said 40% of all hip fractures in the UK happened to people with dementia.
Following a full medical assessment of their current injury by a consultant geriatrician, those who showed signs of falling again could be referred directly, if required, to a specialist dementia clinic.
Dr Baxter, a consultant in elderly care and bone health said: "We know around half of all hip fracture patients have fractured bones before and between 25 and 30% of all people who break their hip die within a year.
"It is clear these patients are extremely vulnerable and, based on current statistics, in need of much wider intervention than they currently receive."
Related Internet Links
The BBC is not responsible for the content of external sites.