Southampton street traders criticise move from precinct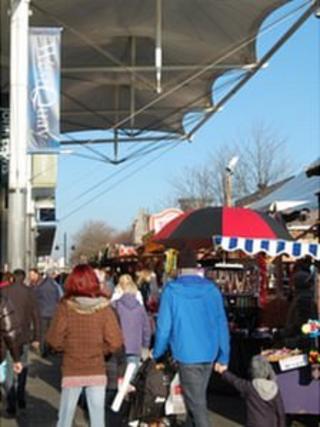 Mobile street traders in Southampton have criticised the city council for moving them off a pedestrianised area of the city's high street.
Southampton City Council has told licensed pedlars to move from outside the busy West Quay shopping centre.
It said the stalls were a safety risk while the annual German Christmas Market was in the precinct.
Hot dog seller Ian Krugar said he was "very surprised at the extremity" of the council plan.
The mobile stalls, which sell items including balloons, mobile phone covers, scarves and jewellery, are licensed to trade by obtaining a pedlar's certificate.
The certificates are available from any police force. As the pedlar is not restricted to trading in the police jurisdiction where it is issued, it is not possible for an individual council to limit the numbers of pedlars trading.
'Common sense solution'
The local authority has written to the traders telling them it was enforcing a Control of Sales Order to move away from the West Quay entrance.
Pedlars say it would threaten their business if they had to move to Above Bar or the Bargate.
Mr Krugar said: "I fully appreciate the problem, but there should be a common sense solution.
"Eliminating peddling from Southampton city centre, because that's what it entails, is too harsh - especially two weeks before Christmas."
Asa Thorpe, cabinet member for environment and transport said however, the "increasing numbers" of pedlars in recent months had become a problem.
Reputation 'affected'
"The Christmas market has been specially laid out so that emergency vehicles can access the precinct, but the presence of many more pedlars presents a risk," he said.
"We are not focusing on any individual pedlar but have to apply this order to them all, and therefore we are unable to make any exceptions - however deserving - as this would be deemed unfair to the rest."
A council spokesman also said it had received complaints from some retail outlets and members of the public about the pedlars.
"Many are related to the reputation and image presented by the fact that there are so many pedlars concentrated in a single area," he said.
He confirmed the ban on pedlars in the precinct area would continue to be enforced after the Christmas period.