Camilla portrait on Queen Victoria liner in Southampton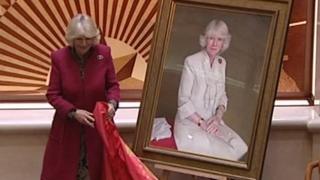 An official portrait of the Duchess of Cornwall has been unveiled on board Southampton-based cruise liner.
Camilla attended the fifth birthday celebrations of Cunard's Queen Victoria at the city's cruise terminal.
Earlier she visited the Emmaus charity in Winchester on her day-long trip to Hampshire.
The duchess met residents at the centre in Bar End Road which provides living accommodation and work training for the homeless.
Camilla, who is president of the National Osteoporosis Society, also meet medical staff conducting research into the condition at Southampton General Hospital.
During her visit to the cruise ship, which she named in 2007, the duchess also met 12 young adults taking part in a Prince's Trust scheme to gain experience in the customer service industry.
The three-quarter length portrait showing Camilla seated and wearing a cream suit will be displayed in the grand lobby of the Queen Victoria.
The portrait is by Richard Stone who has painted most members of the royal family over the past three decades.
He said: "It is a great privilege to be able to step, for a brief time, into the lives of others."