Brockenhurst and Lymington gunman revealed 'vital clues'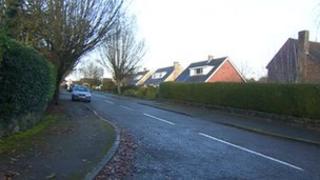 A man suspected of two armed robberies and a kidnapping in Hampshire revealed "potentially vital clues" to his victims, police say.
During an armed robbery at Brockenhurst railway station on 5 December the offender told his victim he lost his business five years ago.
A second victim was told during an armed kidnapping in Lymington on 14 December that he had a wife and child.
Police have also released audio of the man heard during one victim's 999 call.
A man in swimming goggles threatened a couple at their Lymington home before stealing their car and forcing the woman, in her 60s, at gunpoint to go with him.
He drove around the town demanding money before releasing her 15 minutes later and fleeing with £100.
In police audio of the call, the man is heard to say: "I'm going to leave you here, I'm going to take your wife.
"You can ring the police in two minutes, we'll be round the corner."
Cars abandoned
Two men, aged 48 and 44, have been arrested and bailed in connection with the incident.
During the incident at Brockenhurst station, a man was forced into his Porsche 911 Carrera at gunpoint and made to drive to a bank in the town and forced to withdraw a large quantity of money.
The offender then sped off, leaving his victim stranded in a car park.
The Porsche was later found abandoned.
Officers said the information from the offender and the 999 call could lead to them identifying him however, it was not known if what he said to the victims was accurate.
Police said they were "keeping an open mind", as to whether the two incidents were linked to an armed robbery in Highcliffe, Dorset on Tuesday.