Chandlers Ford jilted bride still has New Year's Eve reception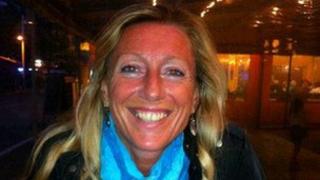 When Angela Burrow from Hampshire was making her wedding plans for New Year's Eve, she could not predict she would be dumped by text message two weeks beforehand.
But after "three days of crying", the 52-year-old ex-army major found her "fighting spirit" back.
As a result, she is going ahead with the planned reception, which includes a seven-course wedding breakfast and Scottish pipers at midnight.
Ms Burrow, a former nurse, had accepted her 38-year-old fiancé's proposal in August after a three-and-a-half-year relationship, and was set to wed at Tylney Hall near Basingstoke.
However, the mother-of-two from Chandlers Ford then received a text message two weeks ago.
'Miss Havisham'
"I was standing at the hand dryer in the ladies' toilets in Reading, and I fished in my pocket for my phone.
"I read the first line which said 'the wedding's off', and my legs just buckled underneath me.
"It was like somebody had winded me."
She said she still does not know why her fiance called things off but is determined to go ahead with the New Year's Eve celebrations.
"We were going to end the year on a high," she said, "so I've resurrected it as a new beginnings party. The people who are coming are my close friends."
She added some people think she "should be in bed in my widow's weeds and be like Miss Havisham" - the jilted bride character in Great Expectations by Charles Dickens.
But she has paid for the wedding package and the party for 40 guests will go ahead as planned.
Instead of her bridal gown, she will be dressed in her "full regimental mess kit" of a long blue navy dress, a scarlet jacket and her medal from serving in Iraq.
"I'll be sharing the bridal suite with my 21-year-old daughter," Ms Burrow said, "You have to laugh really don't you."