Ian Molyneux inquest: Ryan Donovan had been drinking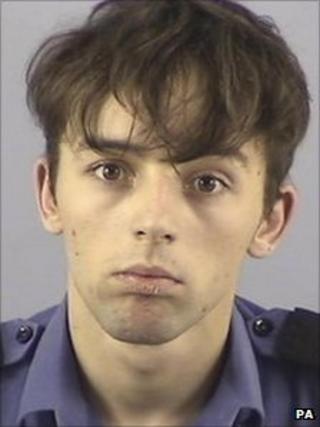 A sailor who shot and killed a navy officer was over the UK alcohol limit for driving when he was handed a rifle for guard duty, an inquest has heard.
Lt Cdr Ian Molyneux, 36, of Wigan, Greater Manchester, was shot at close range on board HMS Astute when it was docked in Southampton in April 2011.
Able Seaman Ryan Donovan was jailed for at least 25 years for murder.
The inquest heard he had drunk more than 20 pints of cider and lager in the 48 hours before the attack.
Dr Paul Williams, a forensic scientist specialising in alcohol, told the inquest at Southampton Civic Centre Donovan had also consumed cans and bottles of beer, as well as vodka and cocktails.
Six shots
Chef Steven Bailey also told the inquest his friend Donovan appeared tired and drunk on the morning of the shootings.
He added he was surprised he had been given a firearm to go on guard duty.
The inquest was told Donovan warned a crewmate: "I'm going to kill someone today. I'm not joking. Remember - watch the news."
Leading Hand Colin Banks said he felt "horrible" he had not told anyone about the threat.
Donovan pleaded guilty to murder and to the attempted murder of Lt Cdr Christopher Hodge, 45, who he shot in the stomach, Petty Officer Christopher Brown, 36, and Chief Petty Officer David McCoy, 37.
The attack, on 8 April 2011, was only stopped when the then leader of Southampton City Council, Royston Smith, and its chief executive, Alistair Neill, wrestled the weapon from Donovan.
Mr Smith and Mr Neill had been touring the vessel when Donovan fired six shots from an SA80 rifle in the control room.
The inquest also heard the Royal Navy's rules on alcohol consumption at the time of the shootings stated that individuals were allowed no more than 10 units in the 24 hours before duty, with no alcohol to be consumed 10 hours before.
This has since changed to no more than five units.
The inquest continues.