Ship engine problem delays Saga world cruise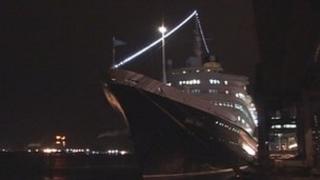 Passengers about to board an around-the-world cruise from Southampton have been told to stay at home after the ship developed engine trouble.
The Saga Ruby had been due to set sail for South America at 20:00 GMT but engine testing earlier revealed that a crank shaft was not working properly.
Saga said the cruise would continue at a later date after repairs had been carried out.
The repairs are likely to take between a week and 10 days.
Passengers arriving at Southampton earlier were told they could either spend the night on board the stricken ship or make their way home at the company's expense.
Rearranged schedule
Evelleen Hain-Whybrow was among those having to make alternative arrangements.
She said: "Saga has been very good at keeping us informed.
"I've been with them before when there's been problems and they've always made the effort to recompense you.
"It's a shame not to be departing on time, but it's all part of life's rich tapestry."
Saga chief Executive Robin Shaw said: "We're deeply sorry to all our customers affected. The failure was identified through routine maintenance.
"The priority for us is the safety of our guests, our crew and our vessel and we make sure that is put to the forefront before any sailing.
"There's various options available to us, but our aim will be to preserve the majority of the cruise on its rearranged schedule."
The 40-year-old ship is due to go into retirement at the end of the year.