Portsmouth M275 motorway new junction work begins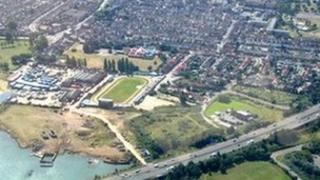 Work has begun on a new motorway junction and park and ride on the outskirts of Portsmouth.
The project at Tipner aims to unlock the area off the M275 motorway for regeneration and development.
Transport minister Norman Baker dug the first spadeful to officially open the site.
Portsmouth City Council was awarded £19.5m by the government for the scheme in December to add to £8.5m of funding from the authority.
'Key to regeneration'
Work has already begun to clean contaminated land east of the motorway in preparation for the construction of new homes and commercial units.
The new junction and 663-space park and ride are expected to be ready in the spring of 2014.
Portsmouth's regeneration councillor, Mike Hancock, said: "The new junction and park and ride in Tipner are key to Portsmouth's regeneration strategy.
"Not only does it enable us to improve that area of the city, but the sustainable transport link it creates is invaluable to the future development of the city centre and seafront."