Navitus Bay Wind Park protesters take part in demonstration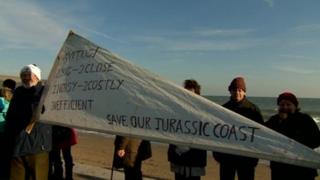 A demonstration against a proposed £3bn wind farm has taken place in a Dorset seaside resort.
About 300 people gathered in Swanage to oppose the Navitus Bay Wind Park which could see 218 wind turbines built off the Jurassic Coast.
Spokeswoman Charlie Sanderson said people were concerned about "visual, environmental and economic damage" to the Unesco World Heritage Site.
Supporters of the scheme also attended the gathering.
The proposed wind farm would be located off the Dorset and Hampshire coast and to the west of the Isle of Wight.
Ms Sanderson said there were serious concerns about the impact on wildlife.
She said: "Large numbers of birds would be killed by the turbines as the wind farm would be in the path of an important migratory route.
"Damage to the seabed during construction would upset the balance of marine life in this sensitive area.
"Dolphins and other marine mammals would die during the drilling and pounding of the seabed - which would take years - as their delicate sonar would be damaged by the noise."
Permanent jobs
Project director Mike Unsworth encouraged protesters to come to a series of public exhibitions.
He said: "One thing we have to do is a very detailed and robust environmental impact assessment that looks at the impact on marine mammals.
"Once we get the conclusions we'll understand what the true impacts are and then it's our obligation to put forward mitigation plans to deal with those impacts."
In December the boundary, which was originally set to be about eight miles (12.8km) off Peveril Point at Swanage and The Needles, was moved 1.8 miles (3km) further away from Bournemouth, Christchurch and Poole.
Other changes include a reduction in the maximum number of turbines, from 333 to 218, and to the total area of seabed which will be developed, from 76.4 sq miles (198 sq km) to 67.5 sq miles (175 sq km).
Eneco Wind UK Ltd (Eneco) and EDF Energy, which will install the turbines, claim the scheme could generate enough electricity for the domestic needs of 790,000 average UK households.
A planning application will be made in February 2014. Construction could start in 2017 with the first wind turbines generating energy by 2020.
Eneco estimates that the project will create up to 1,000 temporary and 100 permanent posts.
The consultations take place in Ferndown, Bournemouth, Poole, New Milton, Lymington, Cowes, Christchurch, and Swanage, from 1 February.