Timmy MacColl case: Missing sailor's family to go to Dubai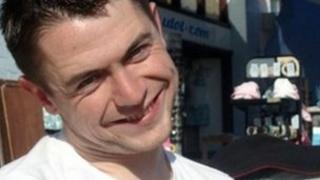 The family of a missing sailor from Hampshire are to travel to the UAE to question detectives investigating his disappearance.
Leading Seaman Timmy MacColl, from Gosport, went missing in May during a port visit to Dubai by HMS Westminster.
Wife Rachael and her grandfather Jim Cunningham will travel to Dubai next week in hope of finding fresh leads.
Mr Cunningham said the family continued to be frustrated by an apparent lack of progress.
The Royal Navy said the investigation into the sailor's disappearance continued to be led by police in Dubai.
'Purely conjecture'
Mr Cunningham said: "I don't think we're much further forward than we were in the first month.
"We don't know where Timmy is, we don't know what happened to him and it's purely conjecture.
"There's been no positive feedback and month eight really is the same as month one.
"We want to know what avenues have been explored, what the results were and what any future inquiries will be."
Members of the MacColl family held a joint press conference with the Royal Navy in Portsmouth in October.
Despite requests from the family, Mrs MacColl's appeal was not published on YouTube or translated into local languages.
A Royal Navy spokesperson said the request was still being considered.
Leading Seaman MacColl, originally from Killin, in Stirlingshire, was last seen in the early hours of 27 May while on shore leave.
It is believed crewmates put him in a taxi outside a bar after a night out, but he failed to return to the ship.
Searches in the port and underwater failed to find him.