Hampshire deputy chief constable Andy Marsh in line for top job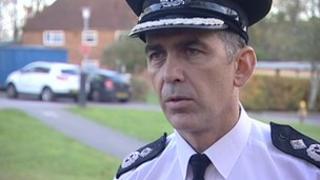 Hampshire's deputy chief constable has been selected as the preferred candidate to take over the top policing job in Hampshire and the Isle of Wight.
Police and Crime Commissioner Simon Hayes has chosen Andy Marsh to take over from outgoing chief constable Alex Marshall.
The selection will go before the Hampshire Police and Crime Panel for approval on Friday.
Mr Marsh joined Hampshire Constabulary as deputy chief constable in July 2010.
He started his career with Avon and Somerset Police before transferring to Wiltshire Police as an assistant chief constable in 2007.
Mr Hayes said he was chosen from a shortlist of four candidates.
"Andy Marsh demonstrated to me that he is the right man to lead the force, that he shares my vision for the future and has the ability to inspire officers and staff to deliver my priorities and to make Hampshire and the Isle of Wight an even safer place," he said.
The new chief will receive a salary of £146,521, 5% less than the outgoing Mr Marshall, because of budget cuts.
Mr Marshall is to take on a new role as chief executive of the National College of Policing next month after more than four years as Hampshire's chief constable.