Two jailed for Southampton drugs feud shooting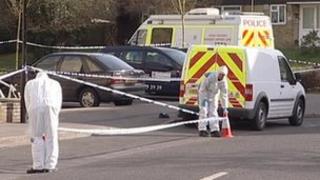 Two men have been jailed for shooting a man in the legs during a drugs feud in Southampton.
Malachi Francis, 27, and Calvin Lawrence, 26, were each sentenced to 13 years in prison with an extended five years on licence for the attack.
The pair, both from south London, were earlier convicted of possession of a firearm with intent to cause fear and violence and wounding with intent.
The shooting happened in Vanguard Road, Townhill Park, in February last year.
It was among a number of violent incidents in Southampton that prompted a major operation by police to combat drug-related violence in the city.
Judge Derwin Hope, sentencing Francis and Lawrence at Southampton Crown Court, said: "I must protect the public as best as I can".
Francis has convictions for 11 previous crimes including drugs supply and firearms offences.
Meanwhile Lawrence has convictions for 21 previous offences including repeated acts of violence and drug dealing.
Judge Hope said Lawrence had been the prime mover in the case, but they should both be sentenced equally.