Warning over icy conditions across Hampshire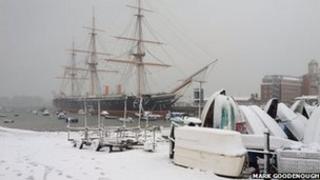 Motorists in Hampshire are being warned of icy conditions as temperatures struggle to rise above freezing.
A yellow warning of ice remains in place from The Met Office as further wintry showers and rain are forecast to spread across the county.
Drivers are being urged to be cautious on the roads as icy conditions remain.
The severe weather has led to a number of schools closing or opening later in order to allow extra time for the teachers to arrive.
The authorities said they were working to keep Hampshire on the move and gritters were out on priority routes.
Hampshire County Council estimated it used more than 4,000 tonnes of salt on the county's roads since Thursday.
Hampshire Police said it had brought in extra staff to deal with weather incidents, but did not expect to reopen its adverse weather control room.
Heavy snowfall on Friday morning caused gridlock in many areas and forced 600 schools to close.
'Landmarks have disappeared'
More than 70 remained shut or opened late on Monday.
Tina Snow, who is blind, said the snowy conditions have made it hard for her to leave her home in Newport on the Isle of Wight.
She said: "When it snows you are not aware whether you are walking on grass or pavements as it's all the same underfoot.
"All the landmarks have disappeared so you actually cannot go out with assistance.
"I've got a guide dog but even he can't see the edges of the pavement at the moment so it wouldn't be fair on him."
Southampton Airport said it remained open but advised passengers to check with their airlines before travelling for possible delays and allow extra time to get to the airport.
The enhanced content on this page requires Javascript and Flash Player 9
Map Key
Land
Cloud
Lakes, Rivers & Sea
Fog
Light
Heavy
Frost
Light
Heavy
Pressure Fronts
Cold
Warm
Occluded
Rain
Light
Heavy
Extreme
Snow
Light
Heavy
Temperature tab only
Temperature (°C)
More details from BBC Weather