Isle of Wight Tudor tax register could return to island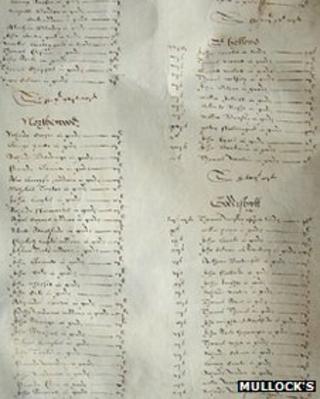 A document listing residents on the Isle of Wight in the reign of Elizabeth I could be returned to the island.
The 8ft-long register of taxpayers dating from 1596 is up for auction after being discovered in a jumble sale in Shropshire.
Auctioneer Richard Westwood-Brookes said there had been interest from islanders, but also foreign buyers.
Island historian Jan Toms said it would be a "crying shame" if the document was not held on the island.
"As a writer and someone passionate about Island history my gut reaction is of course that any rare historical document should ideally stay on the Isle of Wight," she said.
The document, described as being in "remarkably fine condition", is expected to make up to £1,000 when it goes on sale on 14 February.
Mark Howell, Isle of Wight Council head of commissioning said: "Although the council does not have a direct budget for purchasing historic artefacts, we did request more details about the document and would make a decision once these were received.
"When the document does goes up for auction it will be important that the material is given appropriate care and I hope that public access to the information that it contains can be secured," he said.
Mr Westwood-Brookes of Mullocks Auctioneers in Ludlow, Shropshire described the document, being sold on behalf of a private seller, as "a truly historic find".
He said he hoped it would be sold to an island buyer, rather than a foreign university or private collector.
"In this country we don't value our history - it's about time we got excited about our heritage," he said.
The taxation register, written in medieval script, lists everyone who was eligible to pay tax at the time.
With England under threat of Spanish or French Invasion, the Isle of Wight was strategically important and improvements to Carisbrooke Castle began the same year the document was produced.
Names include Sir Thomas Denys - a notable figure at Elizabeth I's court and George Carey, Baron Hunsdon, who later became patron of the Chamberlain's Men theatre company of which William Shakespeare was a member.