Little tern Langstone Harbour nesting sites receive funding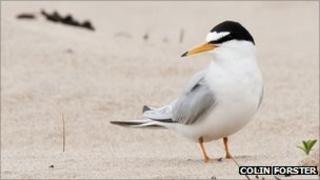 About £200,000 of funding is going towards the restoration of little tern nests on Hampshire's south-east coast.
The RSPB secured funds for the project at Langstone Harbour from the European Union Interreg, Heritage Lottery Fund and Veolia Environmental Trust.
The number of nesting little tern pairs along the south coast in the 1980s was 350. It has fallen to about 117.
The RSPB's Tim Callaway said: "These dainty, but threatened birds have captured the imagination."
Little terns visit the area in the summer to nest and rear their young.
'Beautiful seabirds'
The three-year project will entail the creation of new raised areas of nesting on islands in Langstone Harbour and at the Oysterbeds at West Hayling Local Nature Reserve.
It is hoped that here the eggs and chicks will be safe from tides, human activity and predators such as gulls or foxes.
Rob Hill, Havant Borough Council's open spaces officer, said: "This is great news for the little terns, as well as providing opportunities for the local community to engage with these beautiful seabirds and their nesting environment.
"We look forward to working with the RSPB over the coming years to make a real difference for the nesting seabirds in Langstone Harbour and to help increase people's enjoyment of the harbour's wildlife."
The RSPB secured the £183,500 in conjunction with Havant Borough Council and the Langstone Harbour Board.