Portsmouth and Isle of Wight councils discuss budget cuts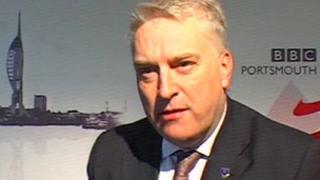 Portsmouth City councils are meeting to discuss cutting spending for next year by a combined total of £16m.
Portsmouth City Council is looking to save a further £9m on top of an original £8m set of savings, agreed in December.
Its council tax precept would rise by 1.95% following three years of freezes.
Isle of Wight Council is seeking to reduce its spending by £7m. Proposals include making the post of council chief executive redundant.
In December, Portsmouth council's first set of spending cuts included closing children's Sure Start centres and public toilets.
The new set of proposed savings includes transferring six of the city's adventure playgrounds to the voluntary sector, saving around £100,000.
'Prudent and realistic'
Street lighting hours would also be reduced at night, while responsibility for lollipop patrols could be moved to individual schools.
The full set of budget proposals are being discussed by full council.
On the Isle of Wight, the council's cabinet will debate measures including freezing council tax for a third consecutive year.
An £8.7m investment in adult social care is proposed over the next three years, while £475,000 could be spent on improving child safeguarding and services for vulnerable children.
Council leader David Pugh said: "The overriding principle is to ensure limited resources are used as effectively as possible.
"This proposed budget is both prudent and realistic.
"It offers real support to the island's economy and to individual families by helping them meet the cost of living in testing times.