Portsmouth's Northern Road bridge closed for five months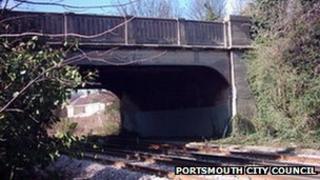 Motorists in Portsmouth are being warned of traffic delays as a popular commuter route closes for five months while a railway bridge is demolished.
The concrete bridge at Northern Road, Cosham, built in 1927, has become too weak to carry four lanes of traffic.
Around 1,500 cars an hour are being diverted through Paulsgrove and Hilsea while it is closed. It will remain open to buses, taxis and emergency vehicles.
A replacement bridge costing £12.5m is expected to be in place by July.
"The bridge is suffering from crumbling concrete and is near the end of its working life. There's a risk of concrete falling on to the railway," a Portsmouth Council spokesman said.
Businesses will remain open as usual with free on-street parking for an hour in central Cosham.