Southampton City Council agrees £16m budget cut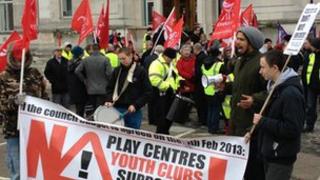 A council has "reluctantly" approved the biggest budget cuts in its history.
Southampton City Council met earlier to discuss cuts of £16m for 2013/14, which will mean more than 200 job losses.
Simon Letts, cabinet member for resources on the Labour council, said he took "no pleasure" in the budget and blamed the government for the cuts.
Protesters gathered outside the civic centre before the meeting earlier and councillors were heckled from the public gallery during the debate.
The total cut amounts to almost 5% of the council's budget excluding schools and benefit payments.
Council tax will rise by 1.9%, but £900,000 has been set aside to help the poorest people now the national council tax benefit scheme has been scrapped.
The equivalent of 243 full-time jobs will be cut.
Mr Letts said: "Nobody of my political persuasion comes into power to make these sorts of cuts."
Other proposed measures include selling the mayoral number plate - TR1 - and the car, which could be replaced it with an electric one provided to the council free.
Some services saved
The council reversed some planned cuts after an extra £5.8m became available.
The closure of the council's archaeology unit has been cancelled, and parking charges will not be introduced in the city's neighbourhood centres.
But a further £20m will have to be cut next year so some services, including three youth centres, have only been saved temporarily.
Josh Asker, of Southampton Youth Fight for Jobs, presented an anti-cuts petition at the meeting and said keeping services for the next year was "not enough".
"The councillors were elected as an antidote to brutal Tory cuts but so far all we have had is brutal Tory cuts with a little sympathy thrown in," he said.
Two councillors who left the Labour group last year to set up their own group - Labour Councillors Against the Cuts - presented an alternative budget.
Don Thomas and Keith Morrell wanted to borrow money and shift funds within budgets.
But two council officers said their plan was "clearly illegal" and "incapable of implementation" and the mayor ruled it could not be debated.
Speaking after the meeting, protester Issa Farrah said: "The mistake this council is making is they are assuming there is apathy and indifference out there.
"The campaign goes on. The fight goes on."