Fareham solar farm plans withdrawn by developers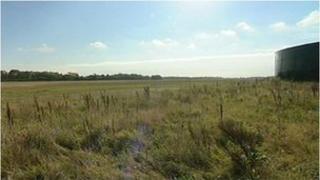 Plans for a £40m solar farm in Hampshire have been withdrawn by the developers while further tests are carried out.
Ib vogt said it had withdrawn plans for the farm in Fareham mainly due to an objection raised by Natural England.
Natural England said "insufficient information" had been submitted on the potential impact to wildlife at the site.
The solar firm said it would carry out an assessment and resubmit its plans.
'Very committed'
Natural England said the site was close to habitats which form part of the Portsmouth Harbour Site of Special Scientific Interest (SSSI).
It had also been identified by The Solent Brent Goose and Waders Strategy 2010 as being suitable for both Brent geese and waders.
Anton Milner, chief executive of ib vogt, said it had initially wanted to defer the planning application.
"We felt it was better to withdraw at this stage to give everyone a little more time to review the specifics of their [Natural England's] claims," he added.
"We are very, very much committed to solar energy, very committed to this site and very committed to these plans."
The company had planned to install about 200,000 solar panels on 58 hectares of agricultural land.
Some councillors had expressed concern that the farm would be an eyesore and was too close to the HMS Daedalus airfield.
Councillor Sean Woodward, Conservative leader of Fareham Borough Council, said it would create a safety risk as the area is required for pilots needing somewhere safe to land in the event of a fault with their aircraft.
Mr Milner said there was "absolutely no issue" with the airport.