Eastleigh housing: Clegg defends 1,400 homes approval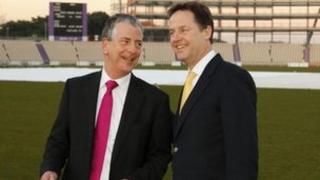 Deputy Prime Minister and Liberal Democrat leader Nick Clegg has defended a decision to build 1,400 homes in Hampshire, saying they are needed.
He was visiting in Eastleigh ahead of the by-election on 28 February and was quizzed about the plans approved by councillors on Monday.
Protesters, supported by the Tories, said the new homes at Boorley Green would "swamp" the existing community.
Mr Clegg said the plan would mean a £10m investment and 2,000 jobs created.
The 180-acre site near Botley is currently farmland and a golf course, and the new homes will be built in phases over the next 10 to 12 years.
The Lib Dem-run borough council approved the plans for a mix of houses, a primary school, shops, employment sites and a community orchard.
'Clegg's broken promises'
Mr Clegg said: "We need more homes, affordable homes especially, for hard-working families in Eastleigh to live in. Everybody agrees with that.
"If you don't locate them in this golf course site in Boorley Wood, the danger is then of course - which is what I think the Conservatives would do - you end up having lots and lots of smaller groups of houses in many other green sites around the borough."
George Hollingbery, Tory MP for the Meon Valley, said: "This particular council has not got an existing local plan and its former local plan has run out.
"It's between a rock and a hard place - because it didn't put the effort in over the last five or six years to consult deeply, to think very carefully about where housing should go.
"Because, frankly, it played politics with the whole planning process, it's now in a very difficult place."
Rachel Reeves, Labour's shadow treasury minister, said: "It's now up to Nick Clegg and the Liberal Democrats to decide whose side they are on.
"Are they on the side of the Conservatives and people living in the biggest properties, the wealthiest people in the country, or are they on the side of ordinary people here in Eastleigh who are struggling with the rising cost of living and are saying: 'Give us a break'."
Tony Briant, from UK Independence Party, said: "I don't think they should be even contemplating building on this area.
"I think, quite frankly, if you want to put it in, consider the indigenous people who live here."
The by-election comes after Lib Dem Chris Huhne resigned having admitted perverting the course of justice.
The final list of candidates in alphabetical order is:
COLIN BEX - Wessex regionalists
DAVID BISHOP - Elvis Loves Pets Party
JIM DUGGAN - Peace Party
RAY HALL - Beer, Baccy and Crumpet Party
HOWLING LAUD HOPE - Monster Raving Loony William Hill Party
MARIA HUTCHINGS - Conservative
DIANE JAMES - UK Independence Party
DR IAIN MACLENNAN - National Health Action Party
KEVIN MILBURN - Christian Party "Proclaiming Christ's Lordship"
JOHN O'FARRELL - Labour
DARREN PROCTER - Trade Unionist and Socialist Coalition
DANNY STUPPLE - Independent
MIKE THORNTON - Liberal Democrats
MICHAEL WALTERS - The English Democrats - "Putting England First!"