Solent Sharks wheelchair rugby team set up in Southampton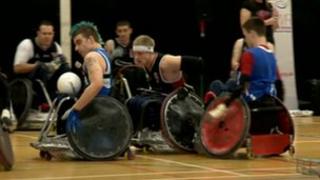 A new wheelchair rugby team has been set up in Southampton.
The Solent Sharks team received £44,000 from Solent University which aims to develop research into training techniques and equipment in the sport.
The university has provided training facilities and 12 bespoke wheelchairs to allow the team to take part in national competitions
Player Richard Cartwright admitted competing at a national level would be "tough, but a great experience".