Polish man cannot donate blood owing to language barrier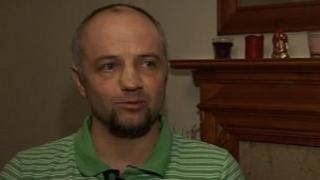 A willing donor has been told he cannot give blood or bone marrow because he does not speak English.
Bernard Kliza, who is Polish but has lived in Southampton for almost eight years, tried to donate but was refused because he could not fill in forms.
The NHS said people with poor English could not complete the necessary paperwork, and friends and family could not be trusted as neutral translators.
A spokesman said providing translators at donation sessions was not practical.
The NHS has a shortage of potential donors for people of eastern European descent.
It has set up bone marrow registers because patients do not always have close relatives with a matching tissue type.
Diseases such as leukaemia and aplastic anaemia prevent a patient's bone marrow, which creates stem cells, from working properly.
However, people must give blood before they can register to donate bone marrow.
'Language barrier'
When Mr Kliza went to Southampton General Hospital to register as a bone marrow donor he was turned away.
"It's very strange for me because if I want to help someone the language barrier shouldn't be a problem," he told the BBC.
Mr Kliza, who carries a donor card, said it was "funny" he could not give blood because he could not speak English, yet could donate organs after death, when he would not be able to speak at all.
Speaking about provision of translators, NHS Blood and Transplant spokesman Jonathan Latham said: "We have around 23,000 sessions throughout the year so financially it's just not a possibility to offer that type of service."