Isle of Wight dinosaur bones being restored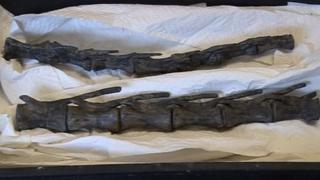 Experts are restoring the bones of a 12ft (3.6m) dinosaur unearthed on the Isle of Wight.
The Valdosaurus, a plant eating reptile, was found by a walker who spotted bones sticking out from mud on the island's south west coast.
Encased in sandstone, the skeleton has been excavated in seven blocks by experts from the Dinosaur Isle Museum.
Restoration is expected to take several months, and the bones will then go on display at the museum in Yaverland.
Alex Peaker, of the museum, described the find as "absolutely amazing".
"Not only is it rare - it is an articulated skeleton, all the bones are in place," he said.
The bones were discovered in October and, after a week of careful digging, the large blocks of sandstone containing the tail, hind limbs, pelvis and back bones were removed from the cliffs.
Experts initially thought it was a crocodile.
"There was no armour, so we then realised it was something different," Mr Peaker said.
The National Trust owns the land and granted permission for the museum to excavate the remains, thought to be around 128 million years old.