Portsmouth's New Mary Rose Museum to open in May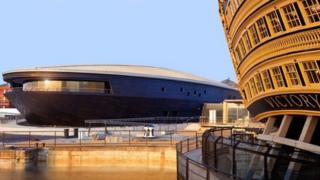 The new museum built to house Henry VIII's flagship the Mary Rose is set to open to the public on 31 May.
The 16th Century hull will once again be on display at Portsmouth Historic Dockyard museum - the same dockyard where the ship was built 500 years ago.
The new museum finally reunites the Mary Rose with many thousands of the 19,000 artefacts raised from the wreck.
Conservation work to dry out the hull will continue for another four or five years.
It will be kept in a "hot box" but visitors will be able to see it through windows.
Once drying is complete, the internal walls will be removed and it will be on full display.
'Jewellery box'
Until now, many of the artefacts have remained in storage, or on display in a separate building. They will now be on show along with the hull.
The new building has been made to look like "a finely crafted wooden jewellery box" with the hull at its centre and galleries running the length of the ship, each at a level corresponding to a deck level on the ship.
Artefacts, including the skeleton of Hatch, the ship's dog, will be displayed to give visitors an impression of what these decks would have looked like moments before the ship sank.
John Lippiett, chief executive of the Mary Rose Trust, said: "The new Mary Rose Museum marks a new and exciting chapter in the history of the Mary Rose, providing an astonishing resource for the world to learn about the Tudors and a centre of excellence for maritime archaeology and conservation.
"The museum is testament to all those who have worked so hard on this remarkable 42-year project to locate, salvage and conserve the ship and her contents."
The bulk of the funding came from a £23m lottery grant and the rest was raised through various charitable trusts, fundraising and sponsors.
The Mary Rose saw 34 years of service before she sank while leading an attack on a French invasion fleet in 1545, and was raised 437 years later on 11 October 1982.
King Henry VIII watched from Southsea Castle as his ship sank killing all but 35 of the 500-strong crew.