Gladys Richards: Powerful drugs were 'to ease pain'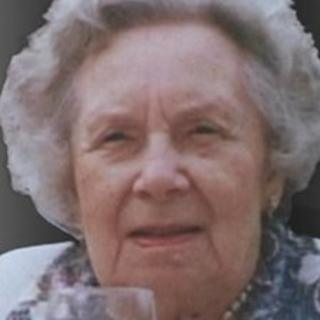 A 91-year-old woman who died at a heavily-criticised Hampshire hospital was given powerful drugs to help ease her pain, an inquest heard.
Nurse Philip Beed said when patients like Gladys Richards were given syringe drivers to continuously administer drugs they were likely to die.
He was in charge of Daedalus Ward at Gosport War Memorial Hospital (GWMH) when Mrs Richards died in August 1998.
She was there to recuperate from a hip operation following a fall.
But Mrs Richards, of Lee-on-the-Solent, died four days after being continuously given diamorphine via a syringe to treat a haematoma - a swelling containing blood.
'Confused and agitated'
Inquests into 10 other deaths at the hospital in 2009 found that drugs were a contributory factor in some cases.
Mrs Richards' daughters, Gillian Mackenzie and Lesley O'Brien, have campaigned for years for a full inquest to be held into her death.
Mrs Mackenzie, of Eastbourne, East Sussex, told the hearing medical staff placed her mother on a course of palliative care which "condemned" her to death.
Mr Beed told the inquest that when Mrs Richards, who had dementia, was admitted to the hospital for rehabilitation she was "confused and agitated".
"I did not think at that point she would die but I did think it would be difficult for her to regain mobility," he said.
He added that her condition worsened after she underwent a further hip operation following a fall at the hospital.
At that point Dr Jane Barton, who was in charge of the ward, prescribed Mrs Richards diamorphine to be administered using a syringe driver, he said.
Mr Beed claimed Dr Barton set the parameters for the dosage but the level used was applied on the agreement of two nurses.
'Out of control'
When asked by coroner David Horsley if this was deemed to be terminal care, he agreed and said it was discussed with her daughters.
"I think that was the feeling at this point. She was a patient who wasn't getting better, whose symptoms were running out of control," he added.
"We discussed [with the family] that this was the expected outcome of this stage of treatment."
Prof Robin Ferner, who was asked by relatives to compile a report, earlier told the inquest drugs given to Mrs Richards were "very likely" to have hastened her death.
The professor said a haematoma would have resolved itself within a few days or weeks and was not a justification for putting Mrs Richards onto end-of-life care.
Inquests into the deaths of 10 other patients at the same hospital in the late 1990s were held in 2009.
A jury found medication contributed to the deaths of five of the patients and that three of these were given "unsuitable medication".
The General Medical Council later ruled Dr Barton, who was a clinical assistant at the hospital, guilty of multiple instances of professional misconduct relating to 12 patients who died at the hospital.
Hampshire Constabulary investigated the deaths of 92 elderly patients at GWMH but no prosecutions have been brought.
The inquest at Portsmouth Guildhall is expected to last nine days.