Bus named after Titanic survivor in Southampton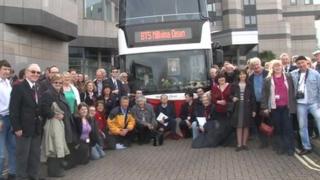 A bus has been named in memory of the last survivor of the Titanic disaster.
At nine weeks old, Millvina Dean was also the youngest of 2,228 people believed to have been on board the liner when it sank on 15 April 1912.
Miss Dean died at a care home in Hampshire in May 2009, aged 97.
The double decker bus named in her honour was unveiled at a ceremony in Southampton, ahead of the 101st anniversary of the Titanic sinking.
Miss Dean's nephew Ron unveiled a plaque on the Uni-link double decker.
He said his aunt would have been "thrilled" by the honour.
"She really was a true character and loved these occasions - not the limelight, but meeting different people," he said.
The bus, operated by Eastleigh-based Bluestar, transported delegates from the British Titanic Society's annual convention to place a wreath in the Millvina Dean memorial garden at Sea City Museum.
Delegates later placed a further wreath in the sea at the departure berth of the Titanic.
The Belfast-built liner sank after hitting an iceberg on its maiden voyage from Southampton.
The disaster resulted in the deaths of 1,517 people in the north Atlantic, largely due to a lack of lifeboats.
Miss Dean's mother Georgetta, and two-year-old brother, Bert, also survived, but her father Bertram was among those who died in the tragedy.
Her family had been travelling in third class to America, where they hoped to start a new life and open a tobacconist's shop in Kansas City.