Dylan Hockley's parents back Hampshire Autistic Society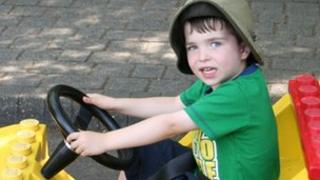 Parents of a British boy killed in the Sandy Hook Elementary School shooting in the USA are backing a fundraising drive for a Hampshire autism charity.
Dylan Hockley, aged six, grew up in Eastleigh before his family moved to Newtown, Connecticut where the shooting took place on 14 December.
Twenty children and six teachers died in the tragedy at the hands of gunman Adam Lanza, who also took his own life.
Parents Ian and Nicole are supporting the Hampshire Autistic Society.
Family friends in Hampshire have helped plan a community fundraising day for 29 June called A Day 4 Dylan.
Speaking to BBC Radio Solent, Mr Hockley spoke of how the family reacted when learning of Dylan's autism.
He said: "It's a moment of realisation. It brings new challenges for a family, but also much joy if you embrace them and see the world through their eyes.
"There's a mix of emotions. Perhaps shock, perhaps relief.
"Support is all important, helping find the right education or just respite care.
"Dylan was extremely fortunate to benefit from that growing up and we hope many more families can do so through this fundraising effort."
Nicole Hockley is continuing to lobby politicians in Washington for tighter gun control legislation in the US alongside fellow members of the Sandy Hook Promise group.