Blaze on scrubland near Gosport tackled by 40 firefighters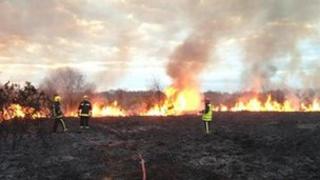 Smoke could be seen across the Solent after a fire spread across six acres (two hectares) of scrubland near Gosport.
Hampshire Fire and Rescue Services said two fires initially broke out at Browndown Ranges - one in Cherque Way and the Other in Privett Road at 18:25 BST.
But the incident was treated as one incident after the fires spread.
About 40 firefighters tackled the fire. It is not known how the blaze started.