Boleh yacht on display in Portsmouth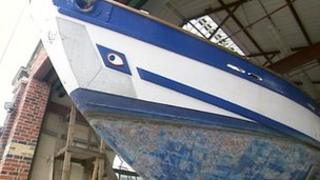 A unique yacht has gone on display in Portsmouth for the first time since a £500,000 Lottery grant was awarded to help pay for its restoration.
Visitors are able to see how work on the Boleh, a 40ft (12.2m) vessel, is progressing at an open day at The Old Pumping Station in Eastney.
The vessel was originally built in Singapore after World War II before sailing to Salcombe, Devon in 1950.
The Boleh will eventually be used to teach children to sail in the Solent.
Portsmouth-based The Boleh Trust has used some of the Heritage Lottery Fund grant, awarded in December, to employ apprentices from the city's Highbury College.
'Looking fantastic'
Kate Hutchinson, from the trust, described the project as "inspirational".
She said: "She's half junk, half European design so she's such a unique, historic vessel that is just a fascinating project to work on.
"The hull has been completely restored so we have started fitting out the cabins and the galley and it's looking fantastic."
The trust hopes to launch the Boleh in August 2014.