Southampton council leader Richard Williams resigns after 'cover-up'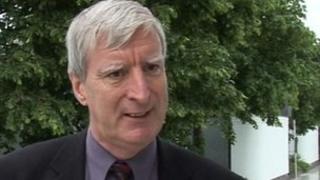 The leader of Southampton City Council has resigned after an inquiry found he did not give "the whole story" over the resignation of one of his cabinet.
Richard Williams admitted a press release about his ex-efficiency and improvement chief Keith Morrell resigning on health grounds was false.
During a heated extraordinary council meeting on Thursday, he announced he was resigning from the authority.
His Labour colleague Councillor Jacqui Rayment has taken over as leader.
Mr Williams, who had been expected to resist calls to go, told members: "I reiterate my apology in light of the mistakes I made.
"I am now stepping down from the authority and submit my resignation."
He walked out of the debating chamber with the meeting still in progress.
'Stunned'
The inquiry found Mr Williams had persuaded his former cabinet member to pretend he was resigning on health grounds, when in fact it was due to a disagreement in policy.
Councillor Royston Smith, leader of the Conservative group, who had been calling for Mr Williams's resignation, said: "I am surprised Councillor Williams has done this.
"This did not have to get to this stage."
Councillor Maureen Turner, from the Liberal Democrats, said: "It should never have gone on as long as this. We feel the sadness of the former councillor."
Mr Morrell, who is now part of the Labour Against the Cuts group, apologised for his role in the matter.
He added: "[I] confirm here today my determination to carry on as a councillor whom [constituents] can have trust and on whom they can depend."
Mrs Rayment, who was also investigated, said she was "stunned" and added: "I'd like to pay tribute to Richard for acting honourably and leaving the council today.
"I am humbled to have been elected until the council's AGM.
"It's a sad day for Southampton politics, but the work carries on. The administration has a clear vision for Southampton which we will continue to work towards."
The independent inquiry concluded the behaviour of Mr Morrell, Mr Williams and the then deputy leader Mrs Rayment fell below national guidelines of openness and honesty in public life - known as the Nolan principles.
But it did not find any evidence of maladministration, injustice or that any criminal offence had taken place.