Barrier in Portsmouth street is 'hitting trade'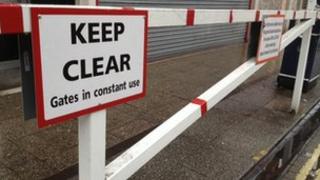 One of the last remaining traders in a Portsmouth city centre street claims a security barrier is damaging his business.
Cafe owner Phillip Allison said his business, and that of market traders on Charlotte Street, has declined as the barrier made the road appear shut.
Portsmouth City Council said the barrier was for pedestrians' safety.
The swing barrier was put in place two years ago to replace bollards which the council said were "unsuitable".
It is closed each day between 09:30 and 15:30.
'Nothing to help'
Mr Allison claimed when the barrier was left open as an experiment agreed with the council, his takings were nearly £200 higher per day than when it was shut.
"Everyone just looks down Charlotte Street and thinks its closed. The council does nothing to help the small businessman," he said.
The authority said the barrier protected pedestrians at the point where the precinct merged with the road, and said it had put up signs to point people towards Charlotte Street.
City centre manager Barry Walker said: "I do understand it's difficult to trade in Charlotte Street.
"I don't think its the only cause of the problem - retail sales are generally difficult at the moment."