Southampton council leader resigned over 'combination of things'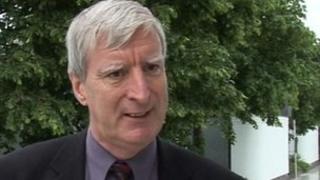 Southampton City Council's ex-leader said a "combination of things" led to his resignation from the authority.
Richard Williams quit his post during a council meeting after an inquiry found he did not give "the whole story" over the resignation of a cabinet member.
Mr Williams admitted a press release about his ex-efficiency and improvement chief Keith Morrell resigning on health grounds was false.
His Labour colleague Councillor Jacqui Rayment has taken over as leader.
Mr Williams said: "Ultimately, it was a combination of things that led me to feel it best for me to stand down and let the Labour-led council move forward in the most sustainable way possible."
He submitted his resignation during an extraordinary council meeting on Thursday.
'Significant contribution'
He walked out of the debating chamber while the meeting was still in progress.
The inquiry found Mr Williams had persuaded his former cabinet member to pretend he was resigning on health grounds, when in fact it was due to a disagreement in policy.
Conservative group leader, councillor Royston Smith, had called for Mr Williams' resignation.
However, he said the group did not make an official complaint about his conduct.
He said: "We did definitely flag it up, once we discovered there has been a deceit it was our job to tell people that.
"You can't have somebody, the leader of the council, who can say and do what he wants whether it's true or not and not draw attention to it.
"If [he] had taken responsibility when the story was first discovered to be false he could have apologised, survived and moved on."
Councillor Smith acknowledged the "significant contribution" Mr Williams has made to local politics.
Councillor Maureen Turner, from the Liberal Democrats, said: "It should never have gone on as long as this."
Mr Morrell who is now part of the Labour Against the Cuts group, apologised for his role in the matter.
Mrs Rayment, who was also investigated, paid tribute to Mr Williams for "acting honourably".
The independent inquiry concluded the behaviour of Mr Morrell, Mr Williams and the then deputy leader Mrs Rayment fell below national guidelines of openness and honesty in public life - known as the Nolan principles.
But it found no evidence of maladministration, injustice or that any criminal offence had taken place.