Winchester Hospital 12-hour A&E delays 'due to bad winter'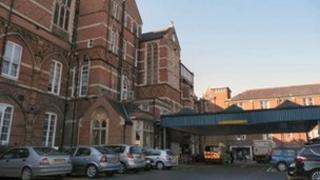 Twenty-five patients at a Hampshire hospital have had to wait 12 or more hours to be seen in accident and emergency this year.
NHS figures revealed Royal Hampshire County Hospital in Winchester was among the worst performing for the year to date.
Hampshire Hospitals NHS Foundation Trust has apologised to patients affected by the long waiting times.
It identified a bad winter and an increase in more complex cases.
The figures for the Hampshire Hospitals NHS Foundation Trust also included one patient having to wait 12 or more hours at its Basingstoke and North Hampshire Hospital.
It made it the third worst trust in the country for A&E waits. Brighton and Sussex University Hospitals NHS Trust was the worst with 52 such cases.
Donna Green, the trust's chief nurse and chief operating officer, said: "There's been a huge amount of pressure in terms of beds this winter.
"We have staffed two extra wards across the trust - one in Winchester, the other in Basingstoke - to create more capacity knowing that the winter would be challenging.
"Despite that, we have still experienced a huge pressure.
"We've seen an increase in elderly patients and then difficulties in getting those patients home.
"At Basingstoke, we've also seen an increase in referrals from the new NHS 111 advice line and a record attendance number of 183 patients being admitted to A&E last Sunday."