Fawley oil-fire power station future remains undecided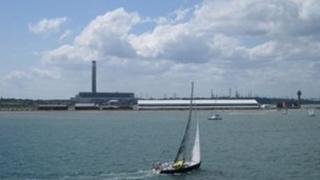 The future use of a former Hampshire power station remains undecided as decommissioning continues.
Oil-fired Fawley Power Station, west of Southampton water, closed in April after more than 40 years in operation.
In the short-term, the station will operate as a control base for five sites across England generating power from open cycle gas turbines.
The first stage of the decommissioning process is set to be completed in December.
Robin Gomm, RWE npower's decommissioning manager, said: "All the fuels and liquids, along with any environmental safety risks, are being removed by teams on site.
Subject to planning
"What happens after that is still undecided, but as it stands, demolition is not planned to start before 2020.
"One option could be to build another power station.
"But, potentially it could be released to other companies for alternative uses.
"Decisions like that would of course be subject to planning regulations and procedures."
The new open cycle gas turbine network will link output at stations in Fawley, Cowes, Cheshire, Grimsby and Didcot A once fully operational later in the year.
Before decommissioning, the oil-fired Fawley station produced 1,036 MW. The gas cycle turbines will produce just 70 MW and will support the network's main resources.
The station was forced to close by 2015 after it fell outside of an EU directive aimed at reducing pollution.