'New lead' in missing Gosport sailor Timmy MacColl case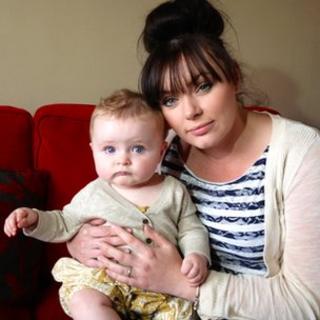 The wife of a sailor who went missing in Dubai a year ago says a new lead has emerged about the night he disappeared.
Leading Seaman Timmy MacColl, 27, from Gosport, Hampshire, was last seen on a port visit to Dubai by HMS Westminster.
Rachael MacColl has seen CCTV in Dubai which she believes may be her husband being driven away from the ship in a taxi.
The Navy said two Special Investigation Branch officers had travelled to Dubai to assist police there.
Leading Seaman MacColl, originally from Killin, Stirlingshire, was last seen at 02:00 local time on 27 May 2012.
"I want to know what happened to him," said Mrs MacColl.
"I want to find him and bring him home... whether he is alive or dead he deserves to be back home."
'Second taxi'
It is believed crew mates put him in a taxi from the Rock Bottom Cafe after a night out but he did not return to the ship moored in Port Rashid.
Mrs MacColl said her husband may have returned to his ship but left in a second taxi which came into the port at about 03:00.
She said she had seen CCTV evidence of a second taxi, in which a man in a white T-shirt and aviator style sunglasses arrived with two passengers in the back.
It then left the port with the man in the white T-shirt still in the car but only one passenger in the back.
Mrs MacColl believes that passenger may have been her husband.
She said the sighting of the second taxi has also been confirmed by workers at Port Rashid.
Mrs MacColl is now calling on the Royal Navy to re-interview sailors from HMS Westminster and make sure the lead is followed up.
She also wants them to work more closely with the force in Dubai and has urged more witnesses to come forward.
"I can understand how scary it must be for someone to come forward but this is my husband and my kids' dad, and they deserve to know where their dad is and I deserve to know where my husband is," she said.
The Navy said it would be inappropriate for it to comment on the information as the investigation was being handled by Dubai Police.
However, a spokeswoman said: "The Royal Navy has told the Dubai Police that they would be welcome to conduct any interviews in the UK personally, or by video link."