Isle of Wight school pupils find exam tests 'wrong text'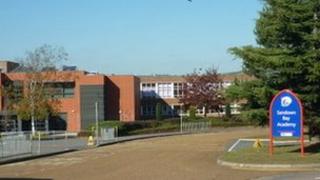 Students at a sixth form college may have to re-sit an AS Level exam after it tested them on a text they had not studied.
Sandown Bay Academy, Isle of Wight, has started an investigation after an English language and literature exam sat by eight of its pupils last Friday.
The group had studied Harold Pinter's The Caretaker but the play was not included in the exam's questions.
The Academy was placed in special measures by Ofsted in January.
College principal Shaheen Khan-Jones confirmed an investigation was under way.
Not 'acceptable standard'
A spokesman for the Academies Enterprise Trust, which runs the school, said: "This is deeply regrettable.
"When the full details are known, the principal will write to the examination board to explain the position in order to safeguard the interests of the students concerned."
The principal will also write to the parents of the students when term resumes next week to explain what happens next.
The Sandown Bay Academy includes a secondary school as well as the sixth form college.
An Ofsted inspection in January judged it to be "failing to give its pupils an acceptable standard of education".
In March, a Dorset school apologised to some of its pupils after admitting it had given them the wrong science assessments for a GCSE practical exam.
Highcliffe School in Christchurch admitted it had given students controlled assessments for 2014, instead of 2013.