HMS Edinburgh in final return to Portsmouth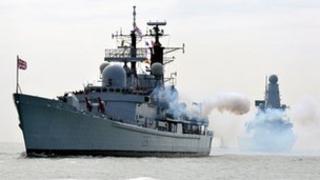 The last of the Royal Navy's Type 42 destroyers has returned to Portsmouth for the final time.
It marks the end of HMS Edinburgh's farewell tour which included visits to its namesake city and Liverpool, where it was built.
The ship is due to be decommissioned next week, having clocked up about 800,000 miles.
Commanding officer, Cdr Nick Borbone, said it was a "fitting finale to an illustrious career".
The Type 42 Destroyers are to be replaced with Type 45 vessels, which are double the weight and carry the latest missile technology.
The 30-year-old HMS Edinburgh underwent a £17.5m refit in 2010.
The ship is being decommissioned as part of the government's Strategic Defence Review announced in 2010, which will see the Royal Navy's surface fleet cut from 23 to 19 ships.
21-gun salute
During its final tour HMS Edinburgh also stopped off in London to take part in events to mark the 70th anniversary of the Battle of the Atlantic.
Cdr Borbone said: "We have been able to open the ship to thousands of visitors across the nation all of whom have had a chance to experience a Type 42 for the final time and also see for themselves how the Royal Navy continues to play a vital role in protecting the interests of the UK."
HMS Edinburgh fired a 21-gun salute as it approached its home harbour, with a reply from the saluting gun at Fort Blockhouse in Gosport.
The ship will be open to the public on Saturday and Sunday before the white ensign is lowered for the final time during a decommissioning ceremony on 6 June.
The largest of the Type 42 destroyers built for the Royal Navy, it was launched in 1983 and served in the 2003 Iraq war.
In its final operational deployment, HMS Edinburgh was used in counter-drug trafficking measures off west Africa before visiting the Caribbean and the US.