Morrisons worker reinstated after Help for Heroes row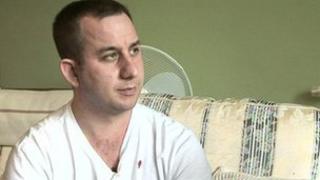 A Morrisons supermarket employee has been reinstated after a suspension for wearing a wristband in support of Help For Heroes and a poppy pin badge.
Adam Austin, who works at the Victory Retail Park store in Portsmouth, was suspended for allegedly refusing to obey staff dress standards.
Morrisons had said it banned bracelets and badges for food safety reasons.
In a statement, the company said it had "got the balance wrong" and expressed its support for the armed forces.
Mr Austin, from Buckland, Portsmouth, had been asked by two senior members of staff on Monday to remove the Help for Heroes wristband.
'Lives on the line'
A disciplinary letter from the company said he was first asked to remove the Royal British Legion poppy pin on his name badge, but refused.
He was then spoken to by another member of staff, who said he had breached the dress code but Mr Austin then put on a Help For Heroes wristband - and kept the pin on.
Mr Austin had said he had worn the poppy pin "out of respect" for murdered soldier Lee Rigby, as well as his own friends in the Army.
Chief executive Dalton Philips said Morrisons had changed its policy following concern from customers.
"Colleagues not preparing fresh food will now be able to wear a pin badge or bracelet to show their support for registered charities like Help for Heroes," he said.
"So Adam can return to work and wear his poppy with pride.
"It's really important to me that we show our support for our armed forces.
"They do really hard work on our behalf. They put their lives on the line every day."