Woman tells of reasons for suing MP Mike Hancock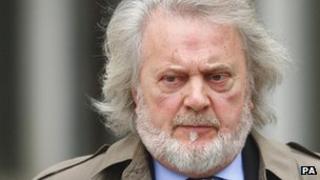 A woman has told of her reasons for launching a civil action against MP Mike Hancock after accusing him of sexually assaulting her.
The woman, who cannot be named for legal reasons, contacted Mr Hancock for help over a neighbour dispute in 2009.
She claims he overwhelmed her with visits, intimate messages and gifts and sexually assaulted her.
The Portsmouth South MP has "completely refuted" the allegations and said he would "vigorously" defend himself.
On Monday, he resigned the party whip and said he was stepping down from the Liberal Democrats temporarily while he contested the allegations of sexual assault.
The woman, who has launched a High Court civil action against Mr Hancock, told BBC News: "To be honest he's disgusting. I wouldn't touch him with a barge pole.
"He's so arrogant. He has a way with words with women; it makes me really angry."
Mr Hancock has been an MP since 1997 and also sits on Portsmouth City Council.
He was arrested on suspicion of indecent assault in 2010 in connection with the allegations but was never charged as the Crown Prosecution Service said there was insufficient evidence.
It was alleged Mr Hancock placed his hand on the woman's breast, exposed himself and kissed her without consent.
'Position of trust'
The woman said she had contacted Mr Hancock complaining that her issues with neighbours and housing were not being taken seriously due to her history of mental illness.
She claims he turned up unannounced at her home and also sent her text messages, often signing off with a row of kisses.
Mr Hancock has said he had a friendship with the woman and has not denied that he gave her presents including a teddy bear, perfume and clothes after inviting her and her son to the House of Commons.
But she said she did not wear the gifts.
Asked why she was taking legal action, she said: "Basically the things that he had asked me to do and because he's in a position of trust.
"He's just overstepped the mark and I just feel like no-one's listened to me for three years and basically I want him to go."
When contacted by the BBC in relation to the allegations, Mr Hancock said: "I will defend my actions in the court.
"I don't intend to use you [the BBC] or any other media outlet to answer these allegations. I will do that at the appropriate time."
In a letter to the Lib Dems' chief whip Alistair Carmichael regarding his decision to resign the party whip, Mr Hancock wrote: "I can assure you that I will continue to vigorously defend my position and that I completely refute the allegations against me.
"I'm doing this in the best interests of the party nationally and in Portsmouth and for my family."
Mr Hancock was in the news in 2011 when he had an affair with his aide Katia Zatuliveter, who was accused of being a Russian spy.
The Special Immigration Appeals Commission said it had seen nothing to support the allegations against Miss Zatuliveter and she won an appeal against deportation.