Christopher Sims jailed for Hampshire attacks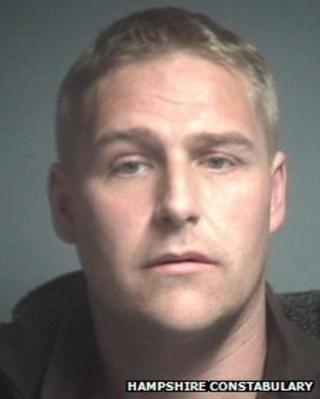 A man who attacked four people in Hampshire with coshes and a hammer has been jailed.
Christopher Sims, 40, shot dead Clare and Graeme Francis's dog at their home in Longparish and inflicted several motiveless attacks on the couple.
Winchester Crown Court heard he used Google Earth to familiarise himself with their home before the attacks.
Sims, of Andover, admitted charges including harassment and grievous bodily harm.
He also clubbed a 74-year-old man from Aldershot with a lump hammer and attacked a 22-year-old man near Hook on two separate occasions.
Judge Keith Cutler told Sims he would have to serve 16 years, minus the time already spent on remand, before being eligible to apply for parole.
Personality disorder
Sims' targeting of Mr and Mrs Francis in "their rural idyll" with his attacks was "motiveless and bizarre", according to Judge Cutler.
"Why you continued to act towards them like you did is a complete mystery," he said.
"I have come to the conclusion that there is a significant risk to members of the public of serious harm on occasion by you of further specified offences.
"I hope that you start to work with the doctors so they can start to reduce the risk for the future."
The behaviour of Sims, who was described as having a personality disorder and is being treated at Broadmoor Hospital, Berkshire, was described by his own defence barrister in court as "strange, unusual and very worrying".
Prosecutor Barnaby Shaw told the court Mrs Francis, 60, and her 62-year-old husband, called the 16-month ordeal which started in December 2010 a "living hell", which has left them afraid to walk alone and on anti-depressants and sleeping tablets.
Det Con Rob Harrington from Andover CID said Sims had set about an "unprovoked campaign of harassment" against the couple in Longparish.
"They were terrorised in their own home by this man and lived in fear until his arrest and charge," he said.
Business failed
He revealed Sims' 74-year-old victim deliberately placed his finger inside Sims' mouth to gain DNA evidence.
"I hope that today's sentencing will finally allow the victims and their families of these terrifying ordeals to begin to move on with their lives," he said.
The court heard he had lost his job as an engineer at BT, then he had failed in a solar panel business which had led to the home he shared with his wife in Andover being repossessed.
Sims had then become fixated on the idea that a barrister had cheated him out of money linked to the solar business and his erratic behaviour included boasts that he was in contact with high-profile police officers and MI5 about the issue.
He pleaded guilty to the harassment of Mr and Mrs Francis and the grievous bodily harm (GBH) of Mr Francis.
Sims also admitted to two charges of GBH, one of attempted GBH and the theft of a car, all relating to offences which occurred between December 2010 and March last year.