Bursledon Windmill wins £94k lottery grant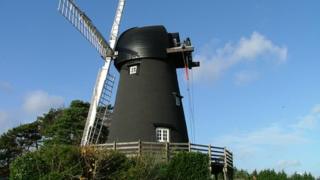 A 200-year-old windmill in Hampshire is expected to begin grinding flour again following a lottery grant.
The £94,000 grant from the Heritage Lottery Fund will see the wind shaft replaced and the sails restored at Bursledon Windmill near Southampton.
A team of volunteers will also be recruited to help operate the windmill.
Built in 1814, the five-storey Grade II* listed structure was rescued by the Hampshire Buildings Preservation Trust in the 1970s.
Its main wind shaft, which drives all the mill machinery and turns the sails, has already been removed as it was no longer in working condition.
The original timber shaft is expected to become an exhibit in an on-site museum.
Stone-ground flour
An adjoining education and visitors centre will also be developed in the granary and 16th Century barn.
About 20 volunteers will be trained in traditional milling skills and help to run guided tours, workshops and special events.
They will work alongside staff from Hampshire County Council, which currently leases the windmill.
Keith Chapman, executive member for culture and recreation, said: "As an operational mill, the restoration work will not only return it to full working order for tourism interest, but with the help of volunteers, it will also once again produce its own stone-ground flour as it has for around 200 years.
"This will both promote local Hampshire produce, and preserve a heritage asset and tradition for all visitors, including local schoolchildren."
It is hoped the work will be completed in time for the windmill's 200th anniversary next year.
There are believed to be fewer than 30 such windmills regularly working in Britain.