Timmy MacColl: Missing sailor's family appeals to crew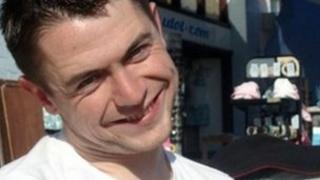 The family of a missing Royal Navy sailor is appealing directly to his former crew mates for information to help discover what happened to him.
Timmy MacColl, from Gosport, failed to return to HMS Westminster while it was docked in Dubai in May 2012.
It is believed crew mates put the father of two in a taxi from a hotel bar after a night out.
His uncle, Neil Cunningham, wants to trace anyone who used a taxi to or from the port in the early hours of 27 May.
Leading Seaman MacColl, originally from Killin, in Stirlingshire, is thought to have returned to the port in a taxi before heading back into Dubai.
Mr Cunningham said: "I'd like to hear from any member of the ship's company who has left Rock Bottom bar, or any other bar, and gone back to the ship after 02.30-02.45 and either went back on board the ship or dropped a ship mate off and then went back out into Dubai," he said.
"There are certainly taxis going into the port that were occupied and taxis leaving the port that were occupied.
"It's really vital that we can show where those taxis went to because that may be the next point where lines of inquiry or information gathering can start."
Mr Cunningham, a Hampshire Constabulary detective, has used all his annual leave travelling to the Emirate to gather information and try to breathe life into the investigation.
He said: "It's clear from the information available to us that it's more than likely that the last place he has been seen is not at the port and the inquiry needs to be moved on to another location.
"The answer, for me, lies somewhere in the streets of Dubai.
"Bearing in mind, I think we had 197 members of the ship's company in and around Dubai for eight days - I'm sure there's more information that can assist us and encourage the Dubai Police to carry on the investigation."
Mr Cunningham said the Dubai authorities' had failed to issue an agreed witness appeal on the first anniversary of Timmy's disappearance, just over a week ago.
He said: "It's just very frustrating that we get so many promises face-to-face.
"It's always a disappointment that these things don't happen as promised."